AOC
Built for High-performance Networks
Access high-quality, affordable, and custom-made active optical cables designed to support multi-line data communications, interconnecting applications, and high-performance computing.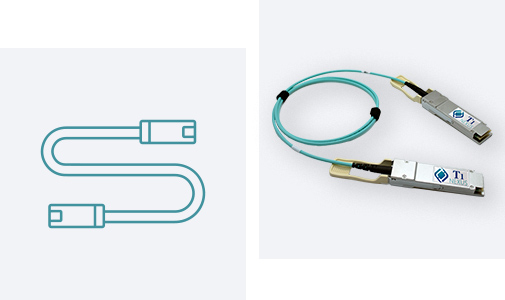 A Wide Range of Active Optical Cables
We offer a complete range of active optical cables for all requirements and environments. From 10Gbps to 400Gbps speed capabilities, with customed-made, and ruggedized options, we're the select partner of datacentres, hyperscalers, media broadcasters, healthcare organizations, and more, who benefit from our high-quality, ISO9001 and TLA9000 compliant, lifetime warranty-backed, and affordable AOC solutions for high-speed fiber optic data transmission.
ISO and TL9000 Quality with a Lifetime Warranty
We are proud to offer industry-leading products that meet ISO and TL9000 standards and are backed by a lifetime warranty.
Get the T1Nexus Advantage
Our customers enjoy guaranteed product assurance, competitive pricing, lifetime warranties, and peace of mind in our ability to deliver on time, every time.
Active Optical Cables FAQs
What is an Active Optical Cable?
An active optic cable is a cable designed with modules (connectors) at both ends of a fiber optic cable, allowing direct communication between devices via the permanently linked fiber optic cable. AOC are unique as they offer transceivers that are embedded in the fiber optic cable.
Active Optical Cable (AOC) assemblies were created to replace copper cable technology, helping to improve data transfer quality over longer distances and to avoid EMI and RFI interference challenges often experienced in data centers and high-performance computing (HPC) applications.
How do Active Optical Cables Work?
Active optical cable designs include two optical transmitters connected to each end of an optical fiber cable. Alone, AOCs cannot transmit signals and require an external power supply. With power, signals are transmitted from one transceiver. Transmission requires an electrical signal sent from the first transceiver to be converted into an optical signal, and when received by the second transceiver, the signal is converted back into an electrical signal.
What are the Various Active Optical Cable (AOC) Assembly Applications?
Active optical cables can be used for: 
Multi-line data communications

Interconnecting applications

Accelerating storage 

High-performance computing
What are the benefits of using Active Optical Cables vs Direct Attach Cables?
Here are five benefits of using AOCs:
Secure, reliable transport

Longer reach and higher bandwidth

Limited EMI/RFI exposure

Low bit-error rate (ber) – 10-15

Smaller size and lower weight compared to copper used in DAC cables
How Long Are Active Optical Cables?
The length of an active optical cable can vary depending on its design. Cable lengths can range from 1m to 300m.
We're ready to answer any questions and offer technical advice on our range of active optical cable products.