ENTERPRISES
Enterprise networking solutions for Peak Performance
Improve your network infrastructure for a stronger competitive advantage - without the exorbitant cost.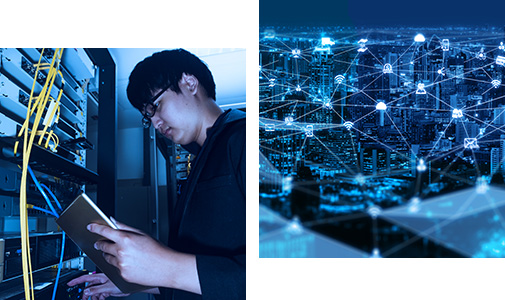 Seeking Competitive Advantage
Today's enterprises have far more demanding computing and networking requirements that cannot be negotiated. And with the need to protect sensitive IP, it's imperative that enterprise network infrastructure be supported by hardware that's capable of delivering peak performance.
Superior Components for Superior Performance
We provide a range of optical products that support the most demanding enterprise technology ecosystems. Our optical transceivers, Direct Attach Cables (DACs), and Active Optical Cables (AOCs) provide enterprises with an efficient way to upgrade their network infrastructure and improve data transfer speeds, and do so cost-effectively.
Our transceivers, compliant with industry standards, support high-speed data rates and are available in various form factors, such as SFP, SFP+, QSFP, and QSFP+ to meet different application requirements. Our DACs and AOCs provide a viable solution to augment capacity of existing networks, helping reduce downtime and enhance productivity.
Get the T1Nexus Advantage
Enterprise customers enjoy guaranteed product assurance, competitive pricing, lifetime warranties, and peace of mind in our ability to deliver on time, every time.
ISO and TL9000 Quality with a Lifetime Warranty
We are proud to offer industry-leading products that meet ISO and TL9000 standards and are backed by a lifetime warranty.