DAC
The Cost-effective High-performance Solution
Leverage high-quality, affordable, and custom-made direct attach cables designed to support multi-line data communications, interconnecting applications, and high-performance computing.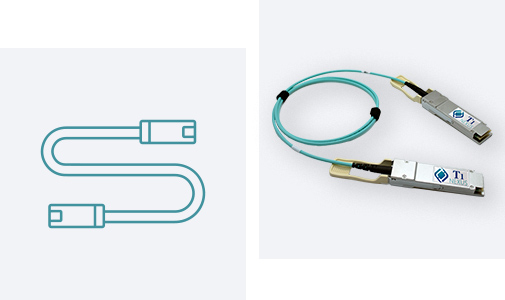 A Wide Range of Direct Attach Cables
We offer a complete range of direct attach cables for all requirements and environments. From 10Gbps to 400Gbps speed capabilities, with customed-made, and ruggedized options, we're the select partner of datacentres, hyperscalers, media broadcasters, healthcare organizations, and more, who benefit from our high-quality, ISO9001 and TLA9000 compliant, lifetime warranty-backed, and affordable DOC solutions for high-speed data transmission.
ISO and TL9000 Quality with a Lifetime Warranty
We are proud to offer industry-leading products that meet ISO and TL9000 standards and are backed by a lifetime warranty.
Get the T1Nexus Advantage
Our customers enjoy guaranteed product assurance, competitive pricing, lifetime warranties, and peace of mind in our ability to deliver on time, every time.
Direct Attach Cables FAQs
What is a Direct Attach Cable?
Direct attach cables are made from Twinax copper. During production, DACs are terminated with modules that enable electrical connection directly into active equipment ports. Unlike active optical cables that use removable transceivers, DACs can be considered less flexible. DAC modules are terminated during production and cannot be removed from the cable. It's also for this reason that all DACs are designed with a fixed length.
What are the Different Types of DAC Cables?
DAC cables are available in various high-speed options, including direct and breakout, passive and active. Here's a brief breakdown of each option: 
Direct-connect

DAC cables are used to provide a connection between one port/line card and another

Breakout

DAC cables enable one port to connect to up to 4 other ports

Active

DAC cables leverage electronics within each module which boost signals, allowing for extended transmission distances

Passive

DAC cables are cables without electronics in modules to offer signal-boosting capabilities 
DACs were invented to provide high-speed electrical signal transmission within networks. Copper's properties, specifically its high level of electrical current conduction, make it an ideal material for electrical signal transmission.
How do Direct Attach Cables Work?
Direct attach cables are connected to networking equipment ports, allowing electrical signals to flow between devices. Examples include data center interconnection such as SATA storage devices, core network routers, core network switches, servers for 10G/40G/100G Ethernet, RADI systems, and InfiniBand.
What are the Various Direct Attach Cable Assembly Applications?
Direct attach cables are used for the transmission of data between active networking equipment typically located on the same server rack where transmission distances are between 1m to 3m.
What are the benefits of using Direct Attach Cables vs Active Optical Cables?
Here are two core benefits of using DACs:
Cheaper than AOCs

Lower power consumption
How Long Are Direct Attach Cables?
Active DAC can transmit signals for up to 10m, whereas passive cables can transmit signals for up to 7m.
We're ready to answer any questions and offer technical advice on our range of direct attach cable products.